The Learning Curve
The formative years of a child from birth to six years of age are the most important in an individual's life. The Early childhood programme provides ample opportunities in nurturing and enhancing the child's self identity, curiosity, confidence and approaches towards learning.
The CEE The Planet Discovery Centre is spread over a 14 acre campus with the primary goal of providing learning within the lap of nature and making it as real as possible. The play of a child's imagination is enhanced by exploring the surroundings making it an enchanting experience.
Our primary objective is to have a happy child, at a happy centre making learning playful and joyful. The School provides ,for the child,an environment  for creative pursuits, innovative discussions and exploring the wide array of science and inquiry based themes.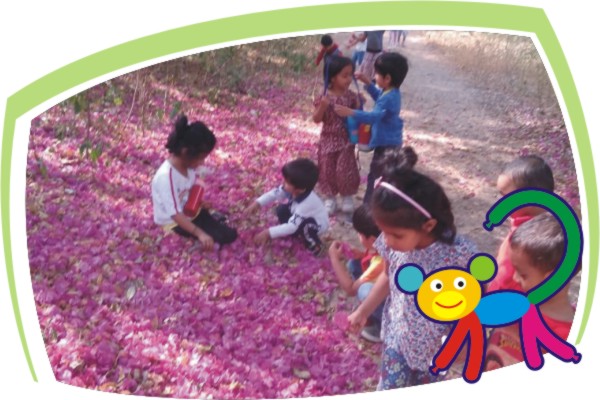 Discover your Genius : Unleash the Potential
There is a genius in each one of us.  Whether it is like Plato's love of wisdom or Christopher Columbus'  optimism and courage, or cultivating Emotional intelligence like Shakespeare or Darwin's Power of Observation and cultivating an open mind, whether it be Mahatma Gandhi's  principles of spiritual genius to harmonize spirit, mind, and body or Albert Einstein's unleashing imagination and 'combinatory play'-there is a hidden latent talent in each child. The School provides a setting for each child to discover itself and understand its own potential .
Learning through Adventure
Adventure begins with exploring the possibility to do and Adventure builds confidence and learning . Our Early childhood programme facilitates in helping our little ones to climb a tree, swing on a branch, jump on puddles, observe the fish and its fins , trek on the vast expanse of pure nature.
Play and Imagination: Wonder to Wander
The early childhood programme has different types of exploratory spaces to give children diversity of stimulus to understand and express by themselves in their own language. It lays the foundation for lifelong learning and success in kindergarten and beyond. The spaces are designed to develop competencies in core areas to develop a child centred understanding of learning, play and nature.
Sensory Play
Our senses help us to understand and perceive what we see around us. Our children will have several kinds of learning activities using natural materials to provide the basis for children to see, feel, touch, smell, taste and hear. The experiments will help them to form their own conclusions. This will be the start of a wonderful scientific journey and exploration.
Nature to Nurture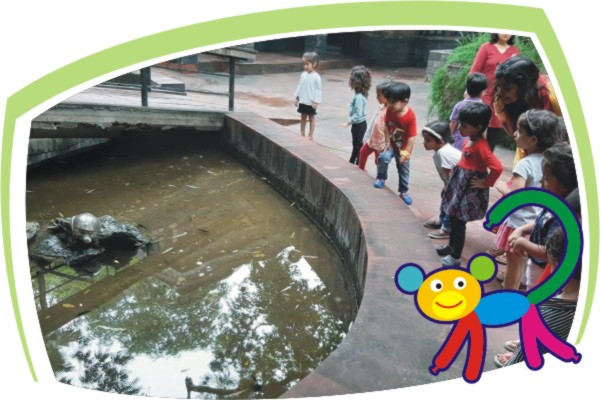 Nature helps children make connections with the real world. The School Campus provides an opportunity for the children to listen to the birds chirping , watch a butterfly flutter around beautiful flowers, see a monkey jump, observe the fish and turtle live in unison, watch the colour of the leaves as seasons pass. The flora and fauna , the fresh air and natural light –all within the Campus - help children understand and appreciate how nature functions and how we share the planet with all its infinite resources.
Morning Circle Time
Morning circle time is an important time for the children to share their ideas views and opinions. Reading a book or a showing a picture or poster, asking how they feel or even a simple exercise about their favourite things. This is a good time for children to share and care about their surroundings. Early on children learn to be kind and caring, respecting the world around them. Sharing values of having good relationships with family, community and the environment will be the basis of a good foundation for a happy child.
Community Engagement
Parents, grandparents and guests become part of the learning journey for children. The School welcomes family and relatives to share their life experiences or giving their expertise in the field of their profession. Through community interactions children learn a great deal as part of their inquiry. It develops their cognitive, social, emotional and physical development. School is open for parents to come in and spend time with children making their learning process proactive . When play is fun and child directed, children are motivated to engage in opportunities to learn. Science Fairs, art exhibitions, fun games, and musical evenings become community days filled with fun and frolic.