StoryTelling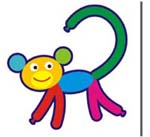 Hello, I am Kapi, the nature wanderer….… I am a very close friend of our nature buddies who come to have fun and learn at the Planet Discovery Centre at the CEE Ahmedabad thaltej campus. Let me tell you much before these buddies came, we have been coming here but we are delighted to make so many new friends each year. This is a unique place where we co exist with the nature.
We have been cohabitating this place for some time now, and let me tell you I am not alone, there are many more friends here. This excites me to tell you a few stories about the Planet Discovery Centre.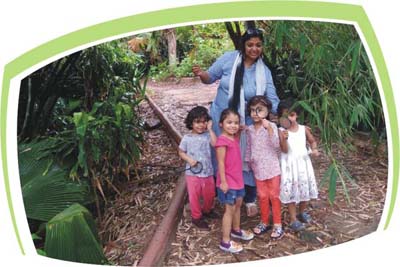 Fallen Leaves…everywhere !!
Our children on initial trails saw the leaves fall, afterwhich they turn yellow and then brown and dry in few days...... Once one of our nature buddy innocently asked that if we put these back on trees, will it turn green and fresh again? This is the power of questioning and enquiring....
Through this enquiry process and discussion they learnt the life cycle of plants and leaves in particular how nature creates 'No waste' and 'only resources'…...waste for one is a resource for another !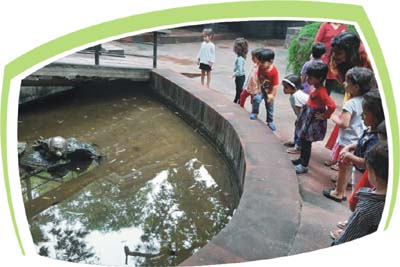 Friends inside water : )
Do you know friends, on this big green forest like campus, there is a fish pond which our nature buddies regularly visits. They keenly observe various kinds of fishes …. Some are long while other are short, a few black, a few white & a few colourful ones! When children come to meet them, a few active and playful while some are still sleepy. There is a turtle family too. The young turtle is learning to swim fast with fishes, They come for sun bath on the small rock inside the pond.
Our buddies engages in talking to them, feeding the fishes with puffed rice and dough. They saw at the CEE Sundarvan that Tortoise was feeding on cucumbers and tomatoes. So, one of our nature buddy got lots of cucumber from home for this Turtle family too…… She put the cucumber inside the pond and while they were waiting for the turtles to come, she instantly asked the educator: Are Tortoise and Turtles the same. Does both like to eat cucumber?
The educators then engaged them in the discussion that while they are from the same reptile family, turtles live in water and tortoise live on land.
The kids was so excited to know this and with sparkling eyes observed tortoise for some time. What an engaging learning experiencing it must be for these young kids to understand the world around them !!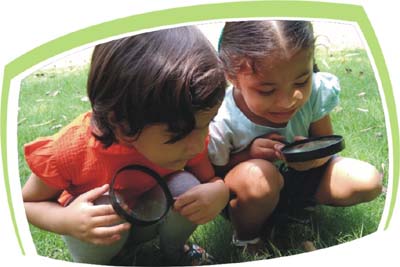 Our 'wild' friends
Hi Kapi here again !! I must tell you that like us, our young little friends at the Planet Discovery Centre are fortunate to explore this small urban forest and our planet very naturally. The kids take nature trails, some guided wild paths and some common ones, explore the grasses, plants, insects, worms, mushrooms, Leaves and the Flowers… Pebbles and Rocks… Dogs and their puppies.… Squirrels and Peacocks… Ants and Frogs… Twigs and Logs… Fish Pond and Lilly Pond…..What we see is that the observant eyes admire them, enquire about them, make sensory engagements and with their tiny little hands gather their own treasure of fallen leaves, flowers and feathers and work creatively with them ! Look at their nature treasure box 
Make Believe!!
You must have heard the story of the 'Monkeys and the Cap Seller' and you must be thinking that we are the notorious Pretend players alone ! Hmmnnn….Watch this ! Video and a picture of pretend play
Now you know how these naughty toddlers, engages in unstructured forms of play, be it Pretend Play, Make believe activities or role plays ! Look at this activity on the theme of Professions… here, while one is the Doctor and other is a patient. They engage with learning aids and with their friends socially and emotionally. It's fun to see them enacting :) While having fun, they get chance to explore so many aspects… Kids develop Socio-emotional intelligence and through make believe activities they are integrating and strengthening previously acquired knowledge, beliefs and practices. Confidence and Team building is the by-product of the activity :)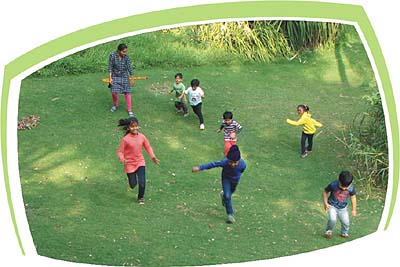 Rolly Polly … Up and Down: Our natural slides of all season
You must be thinking this is Kapi's song while doing rolly polly on the swings and slides !!
Hey there look there !!
My nature buddies have a natural slide on the campus. …. Up and Down ! They have rolly polly fun here.

This is the favourite spot of the nature buddies during Nature Trails; a picnic spot on campus for everyday fun in all seasons. Kids have sun-shower during pleasant winter morning, get to see dews on leaves early morning ! We play under rain showers, observe butterflies, dragon flies and variety of insects during Monsoon and get to play in water puddles in the lawns too. We have fun with fallen leaves in Autumn; get chance to hear music of chirping birds, experience the shades of green from Tiny little Grass to tall Bamboo.
And above all the Natural slide on the sloping lawn, nothing more thrilling than this fun :)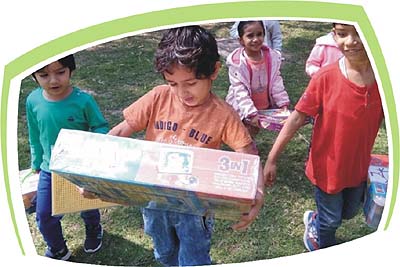 Self-Reliance and Team Work
Hey, look at my Buddies; they are learning to be self-reliant and work in teams. My Buddies make sure the Cleaning and Winding up things after enjoying the activity, Whether it is Yoga mats or Circle Time mats, Puzzles or Paints, Books or Teaching aids; they take pride in keeping things back in their place. Keeping the surrounding neat and tidy is their duty, which is imbibed in these early learners.
Aren't my friends responsible enough? Are we responsibly taking care of surrounding and keeping it clearn ?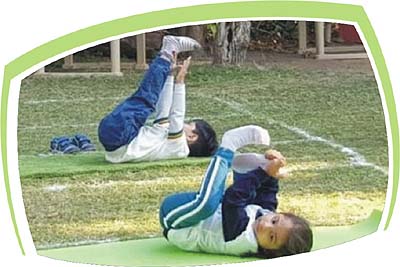 Nature Yoga, the Asanas and SuryaNamaskar
Do you know, these Nature Buddies value our Culture and Heritage and connect with it in natural way. Whether it's Folk Songs singing or Exercising, they always prioritize on our traditional forms.
At the centre, we practice meditation, Om chanting and yogasanas in natural way……and how ? we do poses of a tree, butterfly, cobra and many other natural forms. Through SuryaNamaskar, the full body exercise without using any tools and energy, these dedicated kids keep themselves healthy and strong. Isn't this workout Eco- Friendly, let's clap for these Eco- warriors…. :)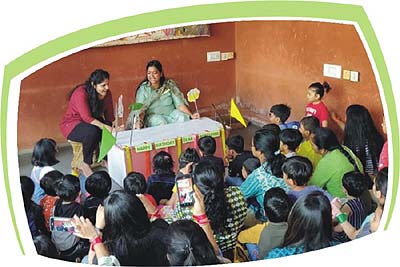 My tail or their tales
My buddies are fond of stories! You tell them a story and they will be your friends. They will love the story if you tell it using Puppets, props or actions. They like to listen to stories repeatedly. Sometime they want their teachers to enact the stories and at times they like themselves like to enact. They also draw and paint pictures of characters and episodes of the story.
At times they will astonishingly bring twist in the story. Once one of my buddies innocently said that Fox should get a log and stand on it, and then get the Grapes, why does all the time Fox remain hungry :)
They also like to create their own stories and that brings the best out of them, Amazing na ?