About Us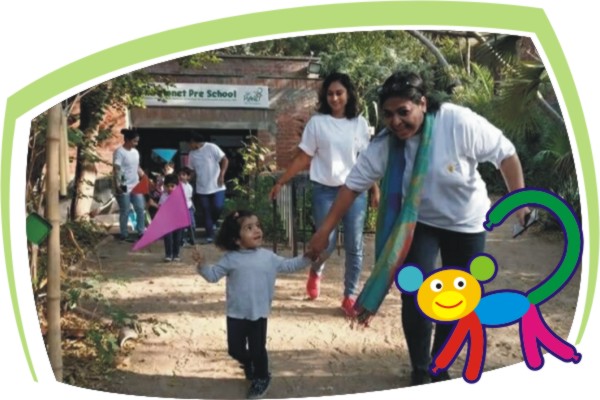 The Planet Discovery Centre set in a campus of 14 acres of wilderness provides a nature-based early learning programme that support growth across the development domains and foster skills in areas such as language, thinking, confidence, self-regulation and motor development to prepare students for formal schooling.
The Planet Discovery Centre brings over 30 years of CEE's experience as well as international experience along with local adaptability to build synergies to infuse citizenship among children making the world a better place to stay.
As children learn to care for themselves and others, they also begin to learn to care for the world around them. Experiencing and learning about the environment in early childhood builds a foundation for lifelong environmental literacy. The global research has shown that a early start with nature based education leads to increased mastery of academic content, enhanced student enthusiasm for Discovery Centre, a happy child with fewer discipline or behavioural issues, better teamwork and problem solving skills, improved social connectivity for students and teachers and increased levels of physical activity.
The Discovery Centre will enhance understanding of sustainable development to give a unique opportunity to endorse attitudes, strategies and technologies which are environmentally sustainable.
Vision
Learn to care for self and the planet

Mission statement
The Planet Discovery Centre proposes to nurture young minds with nature as their learning environment. It aims to embrace natural surroundings and discover the joy of learning. The engagements provide them independence and responsibility towards local and global concerns. The programme inspires to cherish lifelong learners with zeal to accomplish, making them compassionate towards the world around them.
Our Programme Director
Minakshi Balkrishna

Minakshi Balkrishna has teaching and administrative experience for the past 30 years. She has experience in teaching in International centres in India and abroad and has implemented the International Baccalaureate PYP Programme and conducted the Evaluation and self-study for the centre she was working. She has conducted several workshops to initiate the centre teachers to orient in the mode of International curriculum, methodology and pedagogy. She was the PYP chair of GUJNET an important body between the IBO office and local centres. Her last tenure was from an international centre as Executive Director. 

She has attended workshops at Harvard Graduate School of Education for the Future of Learning, programme. Her passion has helped many a start up like wonder boxx a science based DIY kit to help in concept and program. She has worked as Education consultant for several centres and is also on the advisory committee and on the board of some centres in Ahmedabad.

Minakshi Balkrishna has Post Graduation in Economics and has a Bachelors in Education. She is currently pursuing her PhD in education and management from the Academy of Human Resource, Ahmedabad.